The Challenge
Since 2008, GDT has created a world-leading online market for dairy, working with dairy and food companies around the world to discover reference prices for dairy.
GDT is best known for facilitating Global Dairy Trading Events (GDT Events), vital to New Zealand's economy, connecting buyers and sellers.


In 2012 GDT recognised a need to enhance its digital capabilities to attract more buyers and sellers around the world. They engaged ClearPoint to design, build and deliver a new online dairy commodity trading support platform GEMS (GDT Event Management Systems). GDT wanted to put buyers and sellers in the driving seat, so they could self-manage their transactions.


Their old platform made the management of their fortnightly trading events difficult. It was a manual and lengthy process, which involved exchanging over 70 spreadsheets with customers to ensure they had the right information to make the best decisions on auction day.


Among the challenges was working out how to integrate their complex workflows between sellers, buyers and themselves, along with the CRA Auction Software (which was used to run the events), into one seamless platform.
The ClearPoint team and agile methodology have changed our expectations around the delivery of technology projects. On budget, on time, fit for purpose. The bar has been raised."
Shaun McCauley, CTO, GDT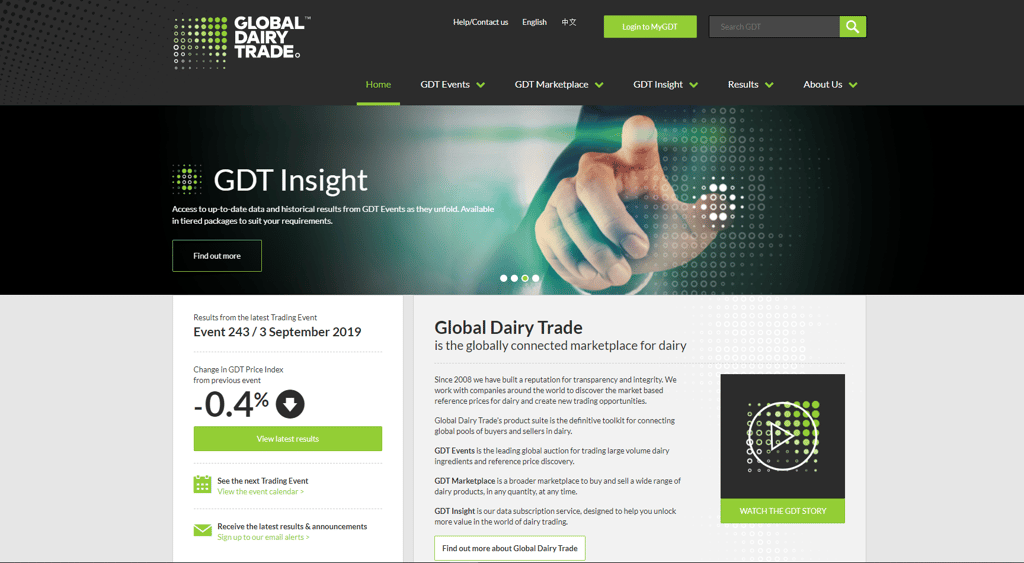 The Solution
ClearPoint built the trading platform which allowed GDT's customers to access from anywhere in the world and get the latest information, prior to making decisions on auction days. The platform, hosted on AWS, allows sellers to go in before an auction and directly load their product supply information and forecasts. Buyers can do all their homework prior to an event by finding out a seller's terms and conditions, analyse their history and compare starting prices.


ClearPoint provides GDT with a 24/7 support team throughout each fortnightly auction to ensure that the platform runs without a hitch.


ClearPoint has also delivered a new containerised infrastructure, using industry best practice and ClearPoint's experience with continuous delivery.
We felt ClearPoint were the right size and fit for us both from a cultural and values perspective. ClearPoint is a company that values honest, transparent communications and integrity, as do we."
Shaun McCauley, CTO, GDT
The Outcome
Upon releasing the platform, GDT's customers are a lot happier and the platform has transformed the way they operate. It's reduced the time required to manage each trading event by 75% which means they can spend more time supporting our clients and chasing new business opportunities.


Two years later, GDT surpassed US$20 billion in online sales from GDT Events, which is of huge value to New Zealand's economy.


Other outcomes included:
Within 18 months, the platform attracted four new global dairy companies.
Cut preparation time of preparing a trading auction from 24 hours to 2 hours
Clients can log into Seller or Buyer portals from anywhere in world
Latest work by ClearPoint has improved change efficiencies including

Reduced cycle time from issue identification;
Automated test run time reduced from 2 hours to 30 mins;
Overall time to deploy a change reduced from circa 6 hours to under 60 minutes from code to customers.